Summer 2022 is Here - We'll have a newsletter coming out by June 24 and we'll have more info here on our home page.
---
The Officer Sean A. Collier Memorial Fund was established to honor the memory of Sean A. Collier who was Killed In the Line of Duty by the Boston Marathon Bombers on April 18, 2013.
---
It's Still Not Too Late to Donate to our Fundraising Efforts to Help Save a Child's Life
This summer we are teaming up with the Lowell Police Boxing Club and the City of Lowell to provide swimming lessons to young people.  Almost half of all children have few to no swimming skills. Drownings are a leading cause of injury/death for young children ages one to 14.  It is estimated that for every fatal drowning victim, another 5 to 10 victims receives hospital related care for non-fatal drowning injuries.
Last summer it seemed like there was a drowning of a child every few days. Police Officer Enmanuel Familia of the Worchester Police Department (E.O.W. – June 4, 2021) drowned while attempting to rescue a juvenile who had gone underwater in a small pond in Green Hill Park. 
With the help of the Lowell Police Department, we are hoping to lower these horrible statistics by using some of the proceeds from this year's Marathon to provide swimming lessons.
---
These are some of our recent events:
Comedy Night Fundraiser
We held our Boston Marathon at Princeton Station in No. Chelmsford, MA on March 25th.  It was a great success. The Dinner and Comedians were great. All proceeds from this event went to support the Officer Sean Collier Marathon Team's fundraising goals. We would like to thank everyone who supported our efforts.
Town of Wilmington, MA Declares January 3 is Sean Collier Day
Wilmington's Board of Selectmen unanimously voted to declare January 3 of each year (Sean's Birthday), "Sean Collier Day" in honor of the Wilmington native and MIT police officer who was killed by the Boston Marathon bombers.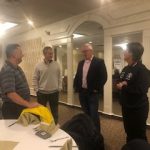 Thanksgiving Dinner for Homeless Veterans and Veterans In Need
The Collier Memorial Fund teamed up with State Representative Tom Golden, Princetown Station and Eversource for a Thanksgiving Dinner for Homeless Veterans and Veterans In Need on November 23 at Princeton Station, No. Chelmsford, MA. The dinner was a great success and it was our way of thanking these heroes for their service and making sure that those less fortunate would have Thanksgiving Dinner.
Lowell Police Boxing Club
The Memorial Fund has decided to support the newly formed Lowell Police Boxing Club which aims to be a place where the city's youths can be off the streets and take part in constructive activities.
On Friday, December 17, we joined a Pizza Party for the kids and at that event gave their parents a $100 gift card from Market Basket for Christmas Dinner and a $100 gift card from Target to help with presents. In the future, they hope to support an after-school tutoring program for kids who may be struggling in school. Also, given the large number of youth deaths from drownings this year, we are hoping to support the Boxing Club in giving swimming lessons to local kids next summer.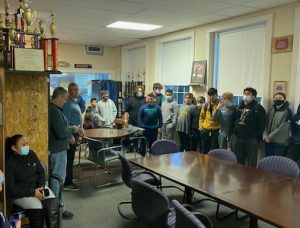 Honoring Officer Emmanuel Familia of the Worchester PD at the Annual Golf Tournament at Four Oaks Country Club.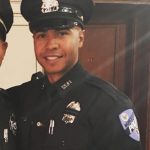 Officer Manny Familia (38) drowned while attempting to rescue a juvenile who had gone underwater in a small pond in Green Hill Park. Three juveniles who had gone into the water became distressed. One of the juveniles went underwater and failed to surface. Officer Familia and several other officers responded to the pond and entered the water in an effort to save all three. Officers were able to bring the other two juveniles to shore, however, Officer Familia failed to surface while trying to save the third juvenile. We donated $5000 to the Familia Family Memorial Fund.
Supporting Police and Community Youth Sports Programs
The Memorial Fund distributed $10,000 worth of sports equipment (baseballs, softballs, soccer balls, baseball mits, etc.) that was donated by Mike & Cindy Kuenzler of All Sports Heroes: Uniforms, Sporting Goods, & Promotions
The donations were given to the Shedd Park Baseball and Softball Organization and Pawtucketville Youth Organization (both of Lowell), the Cambridge Police Youth Program and the Lynn Police Youth Division. This equipment will assist these organizations in providing hundreds of boys and girls in Lowell, Cambridge and Lynn an opportunity to learn and play sports.
---
Memorial Fund Background
On April 15, 2013, two explosives went off near the finish line of the Boston Marathon, killing three and wounding 264 people. The three killed by the explosions were 29-year-old Krystle Campbell, 8-year-old Martin Richard and 23-year-old Lingzi Lu.
Three days later, on April 18, 2013, at approximately 10:30 pm, Patrol Officer Collier was shot and killed by the two suspects wanted for the terrorist bomb attack during the Boston Marathon. Officer Collier was ambushed and shot multiple times by the suspects while seated in his patrol car on the campus of the Massachusetts Institute of Technology. Officer Collier was transported to the hospital where he died.
The bombing suspects were tracked to Watertown, MA were there was a shootout with law enforcement officers. One of the suspects was killed and Massachusetts Bay Transportation Police Officer Richard H. Donohue Jr. (a Police Academy classmate of Sean's) was critically wounded but survived. Boston Police Department officer Dennis Simmonds was injured by an explosive device and he died of this injuries almost a year later on April 10, 2014. Eight other officers were also injured in the shootout with law enforcement officers.
The second suspect was apprehended the following day, tried and by unanimous decision sentenced to death on May 15, 2015.