Summer 2022 is Here - Here's what's happening:
~ The Lowell Police Department with Support from the Sean Collier Memorial Fund  and the Amereican Red Cross have created a "Learn to Swim Program from July 18 - 29.
~ Lowell Police, with Support from the Officer Sean A. Collier Memorial Fund, Opens Youth Services Boxing Facility
---
The Officer Sean A. Collier Memorial Fund was established to honor the memory of Sean A. Collier who was Killed In the Line of Duty by the Boston Marathon Bombers on April 18, 2013.
---
It's Still Not Too Late to Donate to our Fundraising Efforts to Help Save a Child's Life
This summer we are teaming up with the Lowell Police Boxing Club and the City of Lowell to provide swimming lessons to young people.  Almost half of all children have few to no swimming skills. Drownings are a leading cause of injury/death for young children ages one to 14.  It is estimated that for every fatal drowning victim, another 5 to 10 victims receives hospital related care for non-fatal drowning injuries.
Last summer it seemed like there was a drowning of a child every few days. Police Officer Enmanuel Familia of the Worchester Police Department (E.O.W. – June 4, 2021) drowned while attempting to rescue a juvenile who had gone underwater in a small pond in Green Hill Park. 
With the help of the Lowell Police Department, we are hoping to lower these horrible statistics by using some of the proceeds from this year's Marathon to provide swimming lessons.
Lowell Police, with Support from the Officer Sean A. Collier Memorial Fund, Opens Youth Services Boxing Facility
LOWELL — Acting Superintendent Barry Golner and the Lowell Police Department are grateful to share that, thanks to generous support from community partners, the Lowell Police Youth Services Program has opened a new facility for its youth boxing program.
Thanks to donations from the Officer Sean A. Collier Memorial Fund, a grant from the state Executive Office of Public Safety and Security's Shannon Community Safety Initiative, and numerous community partners, the new facility includes a new, full-sized boxing ring, new training equipment, and new gym equipment.
The Lowell Police Youth Services Boxing Club is free for city residents ages 10 to 18. During the summer, the club meets on Mondays and Wednesdays from 10-11 a.m., and from 1-2 p.m., and on Tuesdays and Thursdays from 3:30 – 4:30 p.m., and from 4:30 – 5:30 p.m.
The Lowell Police Youth Boxing Club offers an opportunity to learn about boxing from volunteer coaches and mentors, including legendary Lowell boxing trainer Jackie O'Neill, while also enjoying an activity that improves physical fitness, confidence, and coordination.
Lowell Police employees who staff the program on a volunteer basis include Officer Dominic Lessieur, who is a former Golden Gloves champion, former Golden Gloves champion and retired City of Lowell employee Keith Rudy, retired Lowell Police Officer Billy Callahan, Officers Emmanuel Antonetty, Jonathan Rivera, Alec Golner, Christal Downs, and Emaly Bouasri, as well as Sgt. Mike Marshall.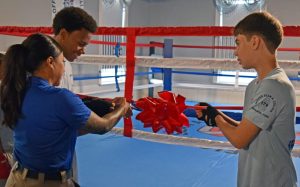 About 75 students have participated in the club, which borrowed space from the Doughboy Wrestling Club as organizers worked to find a more permanent home.
Last week, the Department held a ribbon-cutting ceremony to officially open the new gym, on the second floor of the Portuguese American Lowell Youth Center on Central Street.
Grant funding to pay for leasing the space was provided by EOPSS' Shannon Community Safety Initiative, which also provided funds for new heavy bags, speed bags, and safety equipment for boxers. The Shannon Community Safety Initiative is a multi-pronged approach to addressing community gang and youth violence problems using five strategy areas: Social intervention, Suppression, Opportunity Provision, Organizational Change, and Community Mobilization.
The Officer Sean A. Collier Memorial Fund provided funding to purchase a full-size boxing ring, weights, and cardio equipment, as well as food and beverages for the ceremony.
Additional support was provided by Branco Perego, the owner of Nationwide Tile, who donated and installed rubber flooring in the gym. Chris Ortiz, of MCC Construction, helped locate the space in the Youth Center. The Greater Lowell Community Foundation, Citywide Properties, Central Plaza Realty, and the Portuguese American Youth Center also provided support.
"It has taken the efforts of so many to be able to open the doors of our boxing gym," Acting Superintendent Golner said. "I am proud of the way the City of Lowell consistently comes together to support youth activities."
Painted on the walls of the gym are the cores values of the Lowell Police Department: Integrity, Respect, Accountability, Knowledge, Sanctity of Life, and Community.
"They are there to remind those involved in our program that our core values are societal values, and are consistent no matter what profession or path you take in life," said Acting Superintendent Golner. "This facility is an important step in the Police Department's commitment to building bridges and relationships with the youth in the City of Lowell."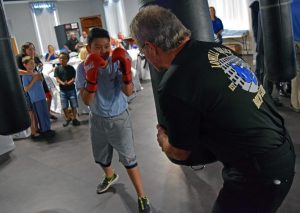 Retired MIT Police Sgt. Richard Sullivan, who worked with Officer Collier, also spoke. He said the Collier Memorial Fund is planning more projects in Lowell, including some involving the Lowell Police Youth Services Program.
"We'd like to help the city as much as we can to keep these kids happy and off the streets," said Sullivan. "We're going to be in Lowell for a very long time."
Lowell Mayor Sokhary Chau also spoke briefly, and State Rep. Rady Mom, D-Lowell, presented a citation from the House of Representatives congratulating the Department on the opening of the facility. Centralville District City Councilor Corey Robinson and retired Lowell Police Superintendent Kelly Richardson also attended.
Lowell Police Sgt. Mike Marshall, officer in charge of the Lowell Police Youth Services Program, led club members through a demonstration of their warmups and exercises. He said the new facility will be a place in Lowell for youth to find positive interactions and influences.
"This is a place for them to grow and a place for them to learn," said Sgt. Marshall.
For more information on joining the Youth Boxing Club, email: [email protected].
---
These are some of our recent events:
Comedy Night Fundraiser
We held our Boston Marathon at Princeton Station in No. Chelmsford, MA on March 25th.  It was a great success. The Dinner and Comedians were great. All proceeds from this event went to support the Officer Sean Collier Marathon Team's fundraising goals. We would like to thank everyone who supported our efforts.
Town of Wilmington, MA Declares January 3 is Sean Collier Day
Wilmington's Board of Selectmen unanimously voted to declare January 3 of each year (Sean's Birthday), "Sean Collier Day" in honor of the Wilmington native and MIT police officer who was killed by the Boston Marathon bombers.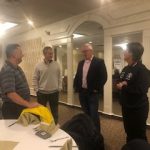 Thanksgiving Dinner for Homeless Veterans and Veterans In Need
The Collier Memorial Fund teamed up with State Representative Tom Golden, Princetown Station and Eversource for a Thanksgiving Dinner for Homeless Veterans and Veterans In Need on November 23 at Princeton Station, No. Chelmsford, MA. The dinner was a great success and it was our way of thanking these heroes for their service and making sure that those less fortunate would have Thanksgiving Dinner.
Lowell Police Boxing Club
The Memorial Fund has decided to support the newly formed Lowell Police Boxing Club which aims to be a place where the city's youths can be off the streets and take part in constructive activities.
On Friday, December 17, we joined a Pizza Party for the kids and at that event gave their parents a $100 gift card from Market Basket for Christmas Dinner and a $100 gift card from Target to help with presents. In the future, they hope to support an after-school tutoring program for kids who may be struggling in school. Also, given the large number of youth deaths from drownings this year, we are hoping to support the Boxing Club in giving swimming lessons to local kids next summer.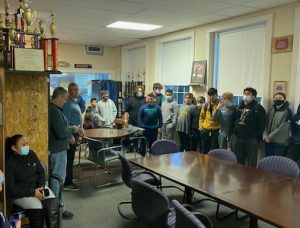 Honoring Officer Emmanuel Familia of the Worchester PD at the Annual Golf Tournament at Four Oaks Country Club.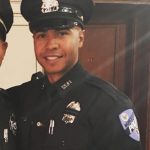 Officer Manny Familia (38) drowned while attempting to rescue a juvenile who had gone underwater in a small pond in Green Hill Park. Three juveniles who had gone into the water became distressed. One of the juveniles went underwater and failed to surface. Officer Familia and several other officers responded to the pond and entered the water in an effort to save all three. Officers were able to bring the other two juveniles to shore, however, Officer Familia failed to surface while trying to save the third juvenile. We donated $5000 to the Familia Family Memorial Fund.
Supporting Police and Community Youth Sports Programs
The Memorial Fund distributed $10,000 worth of sports equipment (baseballs, softballs, soccer balls, baseball mits, etc.) that was donated by Mike & Cindy Kuenzler of All Sports Heroes: Uniforms, Sporting Goods, & Promotions
The donations were given to the Shedd Park Baseball and Softball Organization and Pawtucketville Youth Organization (both of Lowell), the Cambridge Police Youth Program and the Lynn Police Youth Division. This equipment will assist these organizations in providing hundreds of boys and girls in Lowell, Cambridge and Lynn an opportunity to learn and play sports.
---
Memorial Fund Background
On April 15, 2013, two explosives went off near the finish line of the Boston Marathon, killing three and wounding 264 people. The three killed by the explosions were 29-year-old Krystle Campbell, 8-year-old Martin Richard and 23-year-old Lingzi Lu.
Three days later, on April 18, 2013, at approximately 10:30 pm, Patrol Officer Collier was shot and killed by the two suspects wanted for the terrorist bomb attack during the Boston Marathon. Officer Collier was ambushed and shot multiple times by the suspects while seated in his patrol car on the campus of the Massachusetts Institute of Technology. Officer Collier was transported to the hospital where he died.
The bombing suspects were tracked to Watertown, MA were there was a shootout with law enforcement officers. One of the suspects was killed and Massachusetts Bay Transportation Police Officer Richard H. Donohue Jr. (a Police Academy classmate of Sean's) was critically wounded but survived. Boston Police Department officer Dennis Simmonds was injured by an explosive device and he died of this injuries almost a year later on April 10, 2014. Eight other officers were also injured in the shootout with law enforcement officers.
The second suspect was apprehended the following day, tried and by unanimous decision sentenced to death on May 15, 2015.