Groups Supported Through the Officer Collier Memorial Fund
Where Angels Play Foundation 
The charity is run by Bill Lavin, who used to be President of the New Jersey State Firefighters' Mutual Benevolent Association and a fire fighter in Elizabeth, NJ.  The charity was started after Hurricane Sandy as a result of the shooting at Sandy Hook Elementary School in Newtown, CT.  Bill had worked on building playgrounds in Mississippi in the aftermath of Hurricane Katrina and he had an idea to build 26 playgrounds in Hurricane Sandy destroyed communities – one to honor the memory of each teacher or student lost that day in Newtown, CT.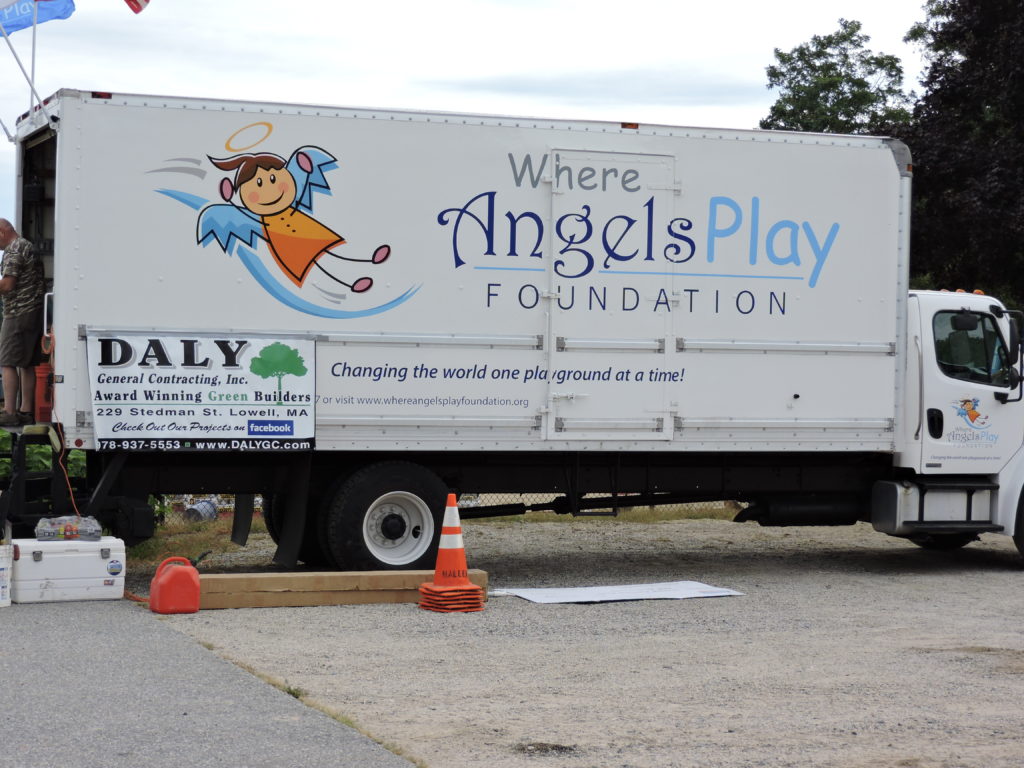 The Where Angels Play Foundation was founded and its first tribute initiative "The Sandy Ground Project" was completed in just 18 months.  Twenty-six playgrounds were constructed along the coast of three states and built by firefighters, police officers, teachers, school administrators and community volunteers.  Each playground reflects the personality of the teacher or child for whom it is named and the project had unanimous approval and blessings of all 26 families.
The charity continues to build playgrounds in communities across the country.  They built a playground for Sean in Wilmington.  I have included pictures of the build.
Here is a video about it. http://www.wcvb.com/article/playground-named-for-sean-collier/8073161 
We will be building a playground with this charity for Marathon Bombing victim Krystle Campbell in the spring.
http://whereangelsplayfoundation.org/
Facebook page: https://www.facebook.com/TheSandyGroundWhereAngelsPlay/
Saving a Hero's Place
Saving a Hero's Place is a volunteer group founded by police officers in San Antonio, Texas. Officer Tommy Capell, his wife and a couple of police buddies started this charity.  They build Honor Chairs for the Roll Call room commemorate officers who have died in the line of duty.
When an Officer makes the ultimate sacrifice, his/her presence is missed. The Honor Chair is placed in the roll call room as a reminder that even though they are not there physically, the Officer will always be with you as you head out to the battles,  carrying on the watch… carrying on the watch…
This charity was started because of Sean's death.  Here is their story.
http://www.savingaherosplace.org/index.php/our-story/
Saving A Hero's Place, Inc. was formed through tragedy.  In 2013, I was contacted by another Police Officer to build a chair similar to several chairs that were placed at another sub station years back.  This chair would be in honor of a San Antonio Police Officer who died in the performance of his duty.  The chair was built March 2013 and placed at the sub station where the officer worked.  The following month, on April 18, 2013, MIT Police Officer Sean Collier was killed in the line of duty by the Boston bombers.  Officer Sean Collier was sitting in his patrol vehicle serving his community.  Unable to sleep for weeks, I knew something needed to be done for this officer.  I immediately got with my wife Robbie Capell and two fellow classmates Brandon Bunch and Michael Pullen.  It was decided that an Honor Chair was just the answer.  MIT Police was contacted and welcomed the idea of an Honor Chair.  After quickly raising money from the community, friends, and family, The four of us traveled by vehicle over 2,000 miles to deliver the honor chair.  Officer Sean Colliers honor chair was presented on May 28, 2013.  The emotions that came with this honor chair, and seeing what the chair meant to the MIT Police department, made us all realize we were not done.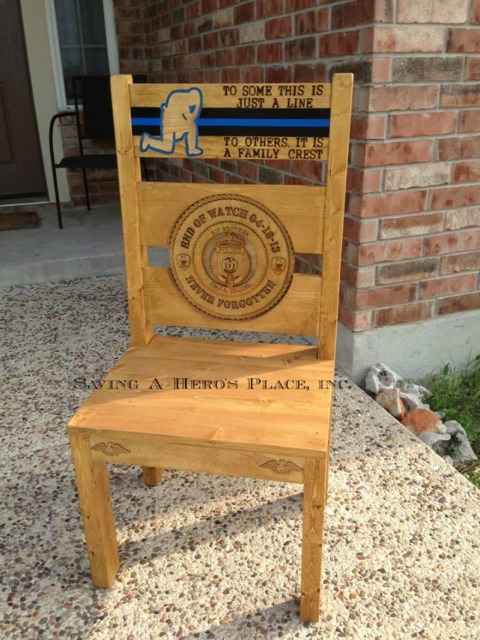 I have added a picture of the chair.
They have a website and a Facebook page 
http://www.savingaherosplace.org/
https://www.facebook.com/savingaherosplace/
Jonny Castro Art: Portraits of Valor 
Jonny Castro is a Philadelphia Police Officer. His job with the police department is that of a Forensic Composite Artist. He paints portraits for the families of first responder killed in the line of duty.  Here is a newspaper article about him: https://www.policeone.com/quiet-warrior/articles/372739006-Courage-on-canvas-How-a-forensic-artists-portraits-give-fallen-cops-new-life/
His Facebook page has a several videos about him and his portraits
https://www.facebook.com/jonnycastroart/videos/1422551961097270/
Here is the main Facebook page
https://www.facebook.com/jonnycastroart/
Police Unity Tour 
The primary purpose of the Police Unity Tour is to raise awareness of Law Enforcement Officers who have died in the line of duty.  The secondary purpose is to raise funds for the National Law Enforcement Officer's Memorial and Museum. 
Salem State University – Sean A Collier Criminal Justice Scholarship
Annual Award is given for students majoring in criminal justice.